A once self-proclaimed entrepreneur with a strong background in photography, computer assembly, and digital arts/graphic design, Shawna is a dual-major graduate who was forced to leave a middle-management position after a serious accident and illness left her unable to work. As a mother of six and former teacher, she is now homeschooling her two youngest children and volunteers her time as an educator for the Bedford County Enrichment Homeschool Program.
Continuation of Bo Melson's "Warning Signal or Violating Rights?"
Posted Monday, October 5, 2009, at 12:53 PM
Bo Melson recently wrote a blog asking whether requiring habitual DUI offenders to display a sticker labeling them a bad driver would be violating the rights of those required to display such tapes more than violating the rights of safe drivers who are their victims.
I ran across this excerpt in Sunday's paper of the t-g and I am appalled at the incredibly "light" sentence this (7) seven time offender of DUI and (4) four time offender of driving on a revoked license--among other charges--received.
Here is the original entry as appearing on Oct. 4th:
"A man was also declared a habitual motor vehicle offender in one hearing and was sentenced for multiple traffic offenses in another.
Stacy Carl Ortel will serve at least 30 percent of a two-year, six-month sentence for DUI (seventh offense) driving on a revoked license (fourth offense), leaving the scene of an accident and violation of implied consent.
Ortel was also declared a habitual motor vehicle offender by Russell and will not be allowed to drive for the next three years until he petitions the court to have his license reinstated."
So, in essence this man will likely serve less than a year in jail (about ten months if he serves 30%) and then what...he can't drive for three years until he petitions the court to reinstate his license??? Come on, the guy has (4) four priors for driving on a revoked license, why would he suddenly obey the law this time?
What is it going to take before a harsher sentence is invoked--the deaths of a mini-van full of kids after his 8th DUI offense? If he's been caught (7) seven times, imagine how many times he's driven drunk and not been caught...
I'm bringing this issue back up because it is clear nothing is going to change around here unless we force it to. Our voices carry a lot of weight in unison...let's shout our protests until someone finally listens!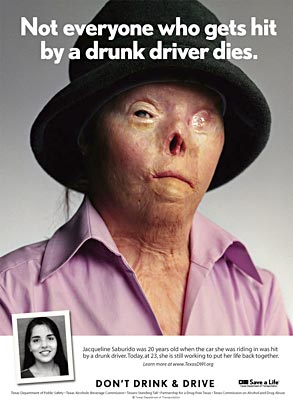 Respond to this blog
Posting a comment requires free registration: