David Melson is a copy editor and staff writer for the Times-Gazette.
Picturing the Past 24: Two legends
Posted Tuesday, September 1, 2009, at 10:48 AM
Here are two of the most well-known products of Bedford County: Gov. Prentice Cooper riding Strolling Jim, grand champion of the first Tennessee Walking Horse National Celebration, in a photo from 1940.
Older people will remember Cooper for his political successes. Younger generations, such as myself, know him primarily as a large-scale property owner in Shelbyville and the father of U.S. Rep. Jim Cooper.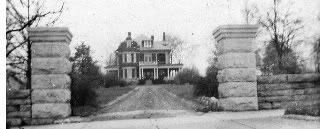 Cooper lived in this mansion on East Lane Street in an undated (but probably from the late 1930s or early 1940s) photo provided by Sheila Allen. (NOTE: This is a repost of my original PTP24 blog, in which I confused this home with another one on the Cooper property which burned in the 1970s. A quick trip to East Lane Street showed this home still stands, although behind far more greenery than in this photo. Massive thanks to frequent commenter leeiii for correcting me.)
Strolling Jim, the first Celebration champion, is buried behind Walking Horse Hotel in Wartrace. The horse's stables had been located behind the hotel. Floyd Carothers was trainer. The horse died before I was born, but probably even very young residents of Bedford County have heard of him, even if just from asking where the Strolling Jim 40 run gets its name.
Picturing the Past is featured each Tuesday in this blog.
Respond to this blog
Posting a comment requires free registration: