David Melson is a copy editor and staff writer for the Times-Gazette.
Picturing the Past 36: Old Sonic, Burger Chef disappear
Posted Tuesday, November 24, 2009, at 7:16 AM
One more week of burger joints, then we'll get off the subject for awhile, I promise. (Next week's something I haven't posted before.)
And I didn't plan on the new photos you're seeing today, but I glanced over from Lane Parkway on Sunday and noticed...
Burger Chef is coming down.
This fall's brought the downfall of the skeletons of two 1960s and 1970s drive-in restaurants.
What was left of Shelbyville's original Sonic Drive-In was demolished in October. We have two Sonics now, one within sight of the original one, but the 1970s version held a lot of memories. The gone one was known to many as Bumpers but, for those of us of a certain age, it'll always be Sonic.
Now the old Burger Chef, built in 1965 and which last housed a Mexican store, is being demolished.
The Jan Phillips-provided photo of the original Burger Chef in a previous blog brought a lot of comments. Sonic was to those of us who grew up in the 1970s what Burger Chef was from the mid-1960s to mid-1970s.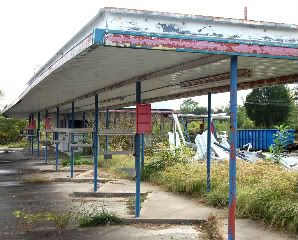 Here's a last look at Sonic from Oct. 12.
In the 1970s you hung out at Dairy Queen and Pizza Hut on Lane Parkway, side-by-side just as today, then cruised out past McDonald's (which opened, I think, in '77), made the turnaround at Sonic and headed back in the other direction. Burger Chef was still around then as well. (Was it known as Burger Ch-i-ef at one point?)
One thing the original Sonic had going for it was its manager, Marion Tackett, who had two children attending Central High at the time. Most of us knew him as "Mr. T." He got to know his customers, frequently standing outside and talking to them, and was very involved in the community.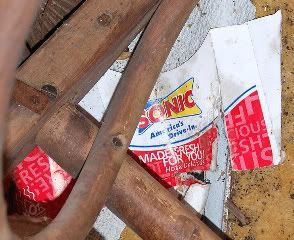 I photographed Sonic's takedown in October, and was maybe the last person to stand inside the filthy mess that once housed the kitchen.
And I wondered if the container you see above survived the old days or was from one of the new Sonics.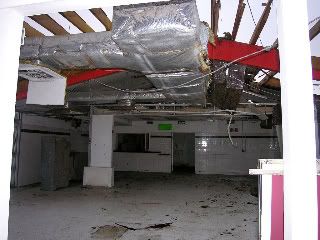 Here's a final look at the inside of the old Burger Chef. Are the white tiles original? It looks quite different from the old 'Chef I remember, maybe because the furniture's missing. I'm sure it had been extensively remodeled years before.
BURGER CHEF ON THE AIR: Does anyone else remember the role Burger Chef played in what I'll call the Radio War of 1971?
For a very brief time that summer WLIJ-1580 had a Top 40 rock format. They were daytime-only then but took advantage of long summer days to program a request show directly against WHAL-1400/102.9's longtime "RC Cola At Your Request" show at 7 p.m.
In the years up till then the WHAL DJs just read lists of dedications. WLIJ began putting their calls directly on the air. WHAL soon followed suit.
Then WLIJ's staff began taking their remote truck (remember the little Metro brand truck with the large window?), to Burger Chef and taking walk-up requests.
One night a walk-up requested a gospel song. The walk-up was told they didn't program gospel music on weekday nights. The walk-up's fellow church members complained - and apparently the DJ was told to play gospel if someone requested it. Soon WLIJ was back to fulltime country.
CAN YOU HELP? If anyone has any previously-unpublished photos of the 1934 courthouse riot, I'd like to scan them or have JPEG's e-mailed to me for a blog series I'm planning in December.
Picturing the Past is featured each Tuesday in this blog. Reader photo contributions are welcomed.
Respond to this blog
Posting a comment requires free registration: