David Melson is a copy editor and staff writer for the Times-Gazette.
Picturing the Past 42: Past meets present
Posted Tuesday, January 5, 2010, at 9:45 AM
Several readers have left comments about growing up on North Main Street, who lived where and who spent time with who.
Do the remains of this house bring back any memories?
Shelbyville City Council member Lee Roy Cunningham and his wife, Elizabeth, were the last occupants of this residence at 731 North Main, which burned early Monday. The greenhouse area was part of a first-floor flower shop; the Cunninghams lived on the second floor. For those who left Shelbyville years ago, this is on the west side of the road near the Noblitt Street intersection and would have been the second house south of Noblitt (the house next to Noblitt was torn down years ago and the lot is now part of the Cunningham property).
One person referred to this as the "old Thompson house." Were they correct?
The second floor's gone, but you may still be able to see enough of the facade to recognize the house.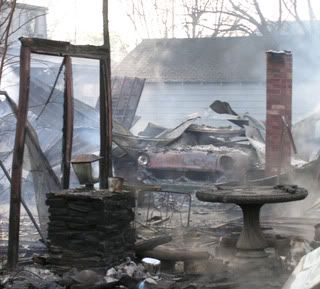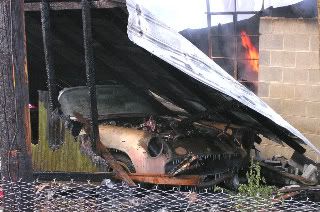 Also lost in the blaze were a '57 Chevy BelAir and what appears to be the body of a mid-1950s Thunderbird in storage buildings behind the main house.
As Lee Roy told me, though, what really matters is that he and his wife escaped with their lives.
UPDATE: Two weeks ago I did a PTP on Dr. Carl Rogers' 1952 Christmas display. His daughter, Jeanie Blessing, says the decorations and audio recording still exist. The brightly-lit scenes many people remember will return in 2010 for the first time since 1992, Jeanie says, but this time with everything repainted and restored and the audio recording converted to a modern form of media. Definitely something we -- and a new generation -- can look forward to.
Respond to this blog
Posting a comment requires free registration: