David Melson is a copy editor and staff writer for the Times-Gazette.
Picturing the past 43: North Main in '63
Posted Tuesday, January 12, 2010, at 10:00 AM
Here's a look at the left and right sides of North Main Street just off the Shelbyville square, as they looked during the urban renewal project on a snowy Jan. 23, 1963.
Above is the left side of North Main looking south from roughly just south of today's post office. The building at left is obviously being demolished. A "Kilpatrick's Shoes Factory Outlet" sign is in front of one of the buildings.
You'll also see the still-existing Stewart-Potts Motors building with what looks like a '62 Ford and a new '63 Galaxie four-door in front. Wonder what happened to the 'Ford' neon sign in front? It would be a real collector's item today.
Beyond that is an "Oertel's 92" beer sign in front of a tavern further toward the square. Anyone remember the bar's name and who operated it?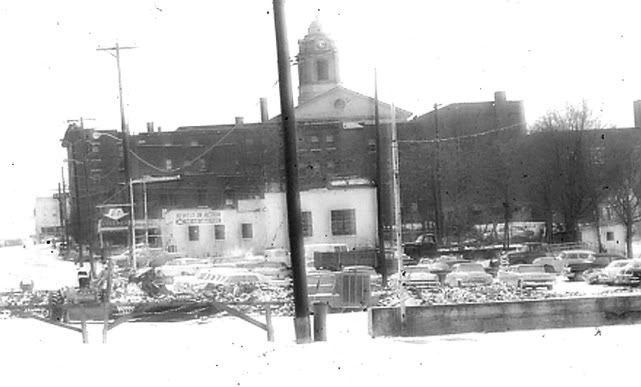 The west side shows what appears to be Stewart-Potts' car lot, directly across the street from the dealership. Had the lot been across the street or beside the building before urban renewal began?
It's clear that's Stewart-Potts' lot because of the 'A-1 Used Cars" sign. I've got the photo blown up large as I write this and can see the new car sticker in the window of a '63 Ford if I look closely. Others on this lot are used cars.
Further up the street is the light-colored building which I'm guessing is where others have mentioned an Oldsmobile dealer was located in the 1950s.
And the large, dark-colored building which stands out is the back of the old Hotel Dixie. Look closely and you may be able to see its sign to the left of the building. I'm also seeing something that I wonder if I remember correctly or not: Did the Dixie have some more rooms in a wooden portion behind the main brick building? I seem to remember a wooden structure in such bad shape that I wondered how it was still standing.
The one-time Shelbyville landmark had become an eyesore and was demolished, as I remember (I was there) on a cold Saturday morning in 1977 or 1978; I'm thinking '78.
Picturing the Past is featured each Tuesday in this blog. Reader contributions are welcome.
Respond to this blog
Posting a comment requires free registration: