Peoples National Bank employees enjoy Christmas dinner at the Hotel Dixie in December 1950. UPDATE: Several people have looked over this photo and identified most of those pictured. On the side of the table closest to the camera are, from left, Grace Huffman; Edward Huffman; Katherine Steelman; unidentified; unidentified; Helen Maupin; Kennedy Maupin; W.P. Cooper; Henry Tilford; unidentified; unidentified; and at far right sort of looking toward the camera, Katherine Potts. On the other side of the table are, from left, Rell Tillett; next four unidentified; H.J. Thompson; E.B. Maupin Jr.; Mary Ruth Maupin; Mary Maupin; unidentified; possibly Argie Cooper; after a gap, Annie Deery Parker; William Parker; Hortense Cooper; and Prentice Cooper. (T-G file photo)
Those old enough to remember the late 1970s and earlier remember the Hotel Dixie as an imposing landmark on the northeast side of the Shelbyville square. It stood where US Bank does today.
The Dixie was torn down around 1977 or 1978 for the bank building, which was originally Peoples National Bank's new home (not the same as today's Peoples Bank). Most people were glad to see the once-grand hotel, which had become an eyesore, disappear.
But in years past the Dixie was much more than a hotel. Meetings and celebrations, like the one you see above, were held there. At one time it housed Shelbyville's library. I've seen old ads for lawyers' offices and other businesses there.
The photo above is of, ironically, employees of the bank which demolished the property years later. You're looking at the Dixie's dining room and Peoples National Bank's Christmas party, from a negative dated Dec. 26, 1950. I'd guess the banquet was actually held before Christmas, but Dec. 26 was a Tuesday so I suppose that could be the actual date.
Look at that huge mirror and the ornate light fixtures and furniture. And you can see some signs of wear on that old building even then. I'm seeing what appear to be scratches on the large overhead fan at right and what may have been anything from mold to paint chipping above the mirror -- and this negative was in great condition compared to most I've printed, so this was apparently actual damage. But it still looks like a pretty good place to have had a meal. How was their menu compared to the other restaurants in Shelbyville?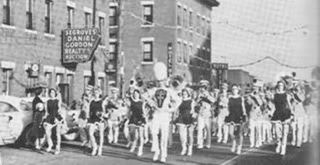 Thanks to a contributor who prefers to remain anonymous, here's a look at the outside of the Hotel Dixie, looking from the west, taken from the 1957 Central High Aquila yearbook. From the decorations on the utility lines I'd guess this was taken during a 1956 Christmas parade (they had one then? I don't remember any before the early 1980s) and that the Central High band is marching.
Wonder what happened to the Dixie's big corner sign when the building was demolished? That would have made a great collectible for someone with lots of room to display it and an interest in history.
Segroves Daniel Gordon Realty & Auction was one of the businesses located in the Dixie's office suites. And I don't know why this stands out to me, but is there any reason that their sign was shaped like the state of Arkansas?
Picturing the Past is featured each Tuesday in this blog. Reader contributions are welcome.