David Melson is a copy editor and staff writer for the Times-Gazette.
Picturing the Past 49: Back to the Dixie
Posted Tuesday, February 23, 2010, at 10:08 AM
The Hotel Dixie blog two weeks ago (PTP 47) really brought out the comments -- and several readers contributed photos as well. Thanks for doing so.
Several people took a look at the photo of Peoples National Bank workers at a December 1950 Christmas dinner and were able to identify most of those pictured. Those names have now been added under that photo, so you may want to go back and take a look.
This week -- in grainy color, no less -- is an undated postcard of the Dixie. I don't see any immediate clues which would help reveal when this was made except that there are no parking meters or utility poles.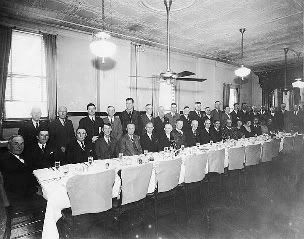 Also contributed was this photo made in the Dixie's dining room. The directors of Bedford County Farm Bureau are meeting in December 1941, and considering the time it was made it would sure be interesting to know what was on their minds. Anyway, it shows more of the dining room and was shot from a further distance back.
This time everyone's identified. Seated, from left, are Dan Parker, Jess Powell, Bob Beachboard, Lee Munsey, Horace Barris, P.G. Anthony, E.G. Roberts, Joe Sloan, R.S. Hudson, E.M. Molder, Lawrence Williams, Charles Eblen, Mrs. Sydney McGrew, Mrs. Ed Philpott, Mrs. J.T. Shearin, Mrs. Montie Pannell, Miss Sara Young (listed as H.D.A. --- did H.D. refer to Home Demonstration?), and Mrs. Dan Parker. Standing, from left, Marvin Holt, Roy Alexander, Cecil Ray - state worker, Greer Wiggins, Franklin Yates (finishing his first year as county agent, and several years before becoming a newspaper owner-publisher), C.A. Molder, --- Henslee (no first name listed), Farris Sharp, Ernest Cooper, Clarence Curtis, J.T. Henslee, L.R. Taylor, George Eblen, Edwin Moulder, Roy Butts, Roscoe Shoffner, Howard Lane, William Turrentine of Halls Mill (the only one with a location listed), Moody Arnold, J.T. McBride and Clarence Shoffner.
The Hotel Dixie was one of those gathering places at which most people who lived through a certain period of years in Shelbyville spent time. I wonder, if that building had survived into the 1990s or beyond -- a time in which people began paying more attention to preservation -- it could have been preserved or rebuilt.
For that matter, is the 1939-vintage old Central High School preservable? Or will it just sit beside Elm Street for years to come, slowly deteriorating while considered both too sturdy to tear down cheaply yet too expensive to renovate?
Picturing the Past is featured each Tuesday in this blog. Reader contributions are welcome.
Respond to this blog
Posting a comment requires free registration: