David Melson is a copy editor and staff writer for the Times-Gazette.
Picturing the Past 51: Williams Grocery
Posted Tuesday, March 9, 2010, at 10:12 AM
Thanks to a contributor for these 1933 photos of Williams Northeast Corner Grocery, which I'm under the impression (based on what I've heard others say over the years) was on North Main Street just off the Shelbyville square in a location where today there's only a foundation of a building and the remains of the basement. Seems like I remember seeing the side of the building in the middle photo bordering Holland Street and painted white. Feel free to correct me or clarify any of this.
The back of the top photo reads "Lillard Stephens (Banks) A.B. Jennings." The guy in the middle is listed as Banks Stephens in a photo below. Hopefully some of you can straighten us out on who's who.
Of note are washboards on special for 22 cents each and sorghum molasses for 40 cents per half gallon or 75 cents a gallon. Those were the days -- and apparently pretty rough days economically. Note the NRA sign in the window -- for National Recovery Administration.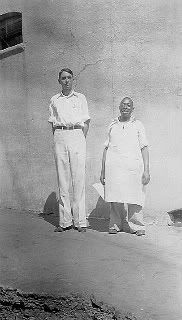 Here's Ben Phillips, listed as a salesman, along with Banks Stephens.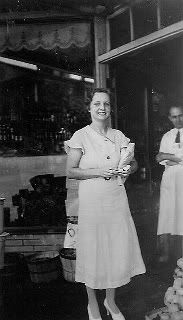 And this is Mildred Hummel, who I'm assuming was a customer.
Am I slightly off-location in thinking this building housed a drug store in the 1970s? Also: I noticed while Photoshopping the top photo that the storefronts looked a lot like those still remaining on South Main across from the library. Did North Main and South Main look similar in those days?
Picturing the Past is featured each Tuesday in this blog. Reader contributions are welcome.
Respond to this blog
Posting a comment requires free registration: