David Melson is a copy editor and staff writer for the Times-Gazette.
Picturing the Past 52: Checkers at the country store
Posted Tuesday, March 16, 2010, at 8:16 AM
This isn't the most in-focus photo you'll ever see, but it's still a great shot of checker players at Perry Bartlett's country store on Fairfield Pike from Saturday afternoon, March 10, 1956.
Where was this store? The story indicates a room had been added to accomodate the crowd of checker players. Looks like they were gathered around a large space heater.
My first thought was that this was the predecessor to a current store building at the corner of Fairfield Pike and McDale Lane. But was this further out? Seems like I'm thinking there's a former store on the eastern end of Fairfield Pike, between the Cascade School area and Fairfield itself. Or was this store actually at Fairfield?
TOLLGATES: There's been some talk about tollgates from years ago. These contributed photos, made at Bradyville in Rutherford County, were obviously made in the early 20th century or earlier.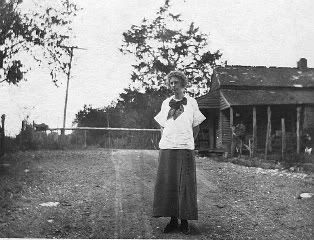 Here's a good view of what a tollgate looked like. The woman standing in front is identified as Mattie Lou Sagely.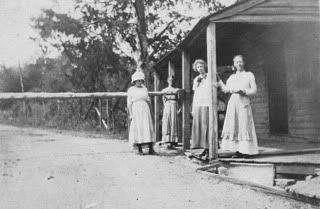 And another view, with Sagely third from left. I don't have the names of the others.
Remember the little brick structure that stood next to North Main Street, roughly around where Tractor Supply is now, before the road was widened in the 1980s? I remember being under the impression that it had been part of a tollgate in years past.
ONE YEAR LATER: Here we are at PTP 52 -- finishing off a year of these. When I posted a 1963 photo of my grandfather's service station I thought it would be a one-time event. Things grew from there and this blog has grown into something great. Thanks for the support. Lots of good things are ahead for Year 2.
Picturing the Past is featured each Tuesday in this blog. Reader contributions are welcome.
Respond to this blog
Posting a comment requires free registration: