David Melson is a copy editor and staff writer for the Times-Gazette.
Picturing the Past 53: Back to school
Posted Tuesday, March 23, 2010, at 9:53 AM
Here's a look at the two high schools which served Shelbyville before today's Central High, which itself has been around 33 years. I was a senior in the first year of today's building and it was an experience beginning the fall of 1977 in a new and already overcrowded facility.
This high school that gets less attention than the still-standing Elm Street building. This structure on Bryant Street was the first known as Central High, and was only there 13 1/2 years, from 1925 until early 1939 (from what I've read the student body moved en masse during the 1938-39 school year.). Today's school administration building, built as Madison Street School, was constructed about that time and the existing ex-high school became a junior high for years.
Note that the photo is labeled 'Junior High School' at the bottom, so it must have been made sometime in the 1940s. At the far right is what appears to be the front end of a 1940s Hudson.
Apparently the Bryant Street building wasn't well-built. When I was a Madison Street student in the early 1970s it was in such poor shape students were only allowed in the first floor, which itself was in shambles with holes in the ceilings and walls. Supposedly the second floor was being used for storage. It was gone by, I think, the end of the 1970s and was definitely in too poor shape for rehab. The newer building, by the way, was in great condition.
If you're trying to picture it in your minds, it was where the parking lot behind the administration building is today. THe
That's one of two problem-filled school-related buildings that were built in that area. Remember Madison Street Gym? From what I've read it was built in a mid-1950s project which also included the stand-alone gym at the Elm Street high school (now Central Memorial Gym), a gym and classroom addition at what was then Bedford County Training School and Community School, a new East Bedford School (a pre-integration black school in Wartrace), and South Side School in Shelbyville.
Most of those buildings still stand today. But Madison Street Gym was demolished a few years ago, supposedly due to termite infestation. A bank is at that site today. And old-timers can tell you about the SCHS football field of the 1930s and 1940s where the bank and Chinese restaurant are now located.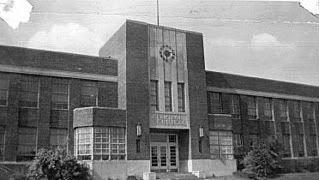 Here's a contributed photo of Central High from 1951, the Elm Street building used as a high school from 1939-77 and a middle school from 1979-2006. And if you look at the building today, it looks almost exactly the same. This photo could have been taken today.
I attended there from my freshman through junior years and remember mostly the people who occupied the building. The empty school's halls are quiet now but the memories live on.
But I do remember that the old school seemed to be either steamy hot or icy cold in the winter, depending on where you were, and parts of it were more than a little worn down by the 1977 move. Those tan brick walls made the place look institutional. I also remember sitting at a desk with "Dinah Shore Sat Here" and references to 1940s singers carved into it. It was definitely aging.
The original parts of today's SCHS are almost as old as the Elm Street building was when I was there. Yet today's building looks fresh and modern and still relatively "new", at least to me. Someone's doing something right out there as far as maintenance.
Picturing the Past is featured each Tuesday in this blog. Reader contributions are welcome.
Respond to this blog
Posting a comment requires free registration: