David Melson is a copy editor and staff writer for the Times-Gazette.
Picturing the Past 54: South side square
Posted Tuesday, March 30, 2010, at 11:43 AM
You've seen this before -- just from a later time
Thanks to a contributor, we're seeing the south side (more than just the 'southeast' side) of the Shelbyville square in a photo originally taken by Dickerson Studios. I'd guess this was shot from atop the Gunter Building.
From the looks of the cars I'd guess this is from sometime in the early 1940s. At bottom right is McDonald Furniture Co. and, moving east from there, is Nina's (a women's clothing store that was in business as late as the 1970s or beyond), and, a few doors up, the Bedford Theater.
Further up Depot are two steeples, one from the old First Christian Church when it was on Depot and I'm guessing the one further back is FIrst Baptist Church. Look at the far right , behind the building which still stands at the corner of South Main and McGrew streets (occupied today by a law firm) and I see what appears to be the top of a much shorter steeple. Is that the old Main Street Church of Christ?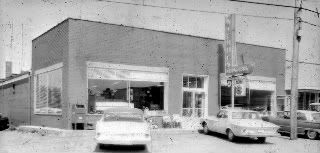 GOING NORTH: A few blocks north of the square in the "Edgemont" area (back when it actually was the north edge of town -- it's more like downtown today) here's an April 1963 photo of Nichols Furniture from the T-G files. This was on North Main about where the parking lot of Shelbyville Lumber Co. next to Colloredo Boulevard is today. Looks like they believed in full service, even including a U.S. Mail pickup box and a telephone booth out front. I was pumping gas Monday night and noticed an actual pay phone near the convenience store -- something you see far fewer of in these days of cell phones. Of course, years ago you didn't pump your own gas, either.
Picturing the Past is featured each Tuesday in this blog. Reader contributions are welcome.
Respond to this blog
Posting a comment requires free registration: