David Melson is a copy editor and staff writer for the Times-Gazette.
Picturing the Past 55: Gunter Building
Posted Tuesday, April 6, 2010, at 10:31 AM
Here's a look at part of the Gunter Building in October 1958, when a Sears store was celebrating its grand opening.
The store stayed there until the mid-1960s before moving to a then-new (first occupant, I think) Lane Parkway building that today houses the Bedford County Sheriff's Department.
This is before I was born, but from what I've read I think the Times-Gazette occupied this location before Sears moved in. The T-G moved to its current building (which had been a Plymouth and, later, Pontiac dealership, and even today we still have a showroom) in 1957. I've seen advertisements indicating the Times-Gazette briefly had a photo studio across the street in the Riverview Building (a portion of it is visible here) in the very early 1950s, so this would have been a logical location.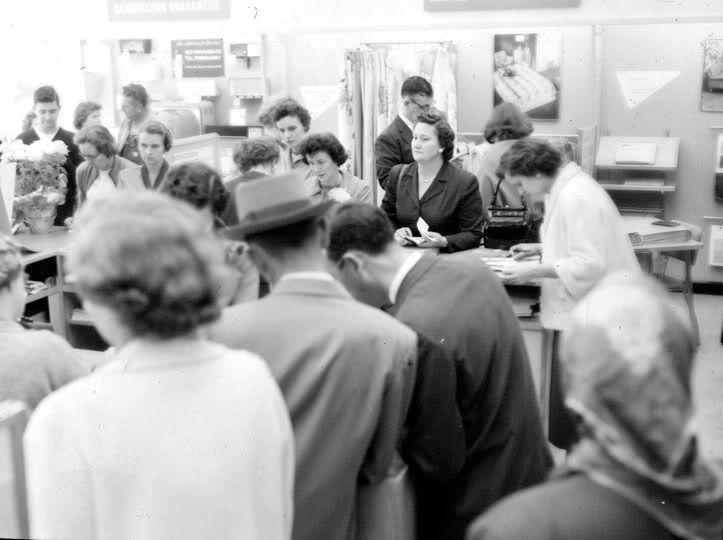 Some of the crowd at the grand opening. Recognize anyone?
(NOTE: I've tried something a little different today to see if I can get secondary photos larger. Let me know if the inside-the-store shot took a long time to load.)
You'll also see signs pointing to businesses in the lower level of the Gunter Building: The Astor Cafe and a barber shop. Who ran the barber shop? To the right is part of Cohn & Glazer Department Store and, on the second floor, a sign for William H. Turner Insurance Agency.
In front of Cohn & Glazer you'll see what I think is part of a scale. People could actually weigh themselves while walking around the square. My question is, why would they want to? Bathroom scales were common by the 1960s. Seems like those large scales disappeared by the 1970s.
Picturing the Past is featured each Tuesday in this blog. Reader contributions are welcome.
Respond to this blog
Posting a comment requires free registration: