David Melson is a copy editor and staff writer for the Times-Gazette.
Picturing the Past 56: Car dealers - and a bonus
Posted Wednesday, April 14, 2010, at 6:06 AM
Seems like I keep finding old negatives of Shelbyville new car dealers in the T-G stash.
Among them are this photo of Lowe Oldsmobile from Oct. 7, 1958. I posted a mid-1960s photo of last year, but this one's much different. The building above burned partially around 1960 (remember seeing the clipping, not sure of the date). It appears that the front facade survived -- or the building was rebuilt in the original design.
"Be our guest! Take a Rocket Test" refers to the fast Olds "Rocket" engines.
The new 1959s must not have been out yet, because that's a '58 in the showroom. The '59s were definitely longer and lower -- someone in Shelbyville had a gray and white '59 two-door hardtop as late as the 1990s. Anyone remember seeing that one around town?
Looks like they mixed new and old in the parking lot, because there's four 1958 Oldsmobiles next to a '57 Ford and '55 or '56 Mercury, and what looks to be a '53 Olds. Check out that Volkswagen in front.
And the bonus? Look to the far left of the Lowe's photo. You'll see one side and part of the sign of Honeyland, a yellow-brick building which housed food and fun from the 1940s into, I think, the mid-to-late 1970s.
Behind Honeyland is what looks like the second story of a two-story house. I haven't thought of that building for years but now remember it. I'm thinking, and I may be wrong, that by the 1960s that "house" was more of a storage building for Honeyland, maybe serving as sort of a barbeque pit.
The Lowe's building was last used as a new car showroom in the 1980s. By that time it was Coltharp Oldsmobile-AMC. The Rambler/AMC franchise was moved around a lot, including here by early 1958.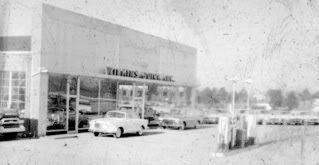 Generations of Bedford County residents bought cars in this building -- including myself ('79 Grand Prix, and lots of longing looks at '70s Trans Ams).
Originally a Buick-GMC dealership owned by R.L. Benson, this building on Union Street was built around 1947 and housed GM dealers until about five years ago. Bill Wilkins bought the dealership at some point in the 1950s. It was a Buick-Pontiac-GMC dealership for most of its run, and Ramblers were sold there off and on as well.
That's why this photo was made Jan. 9, 1958: They were announcing their new Rambler franchise.
I've seen where the building on Madison Street that housed Dixie Motors when it was a Datsun/Nissan dealer was originally built as Sanders Rambler in 1965; within a year or so Wilkins was selling Ramblers again, I think, then Ernie Cook and what was then Cook Motor Sales took over the Rambler/AMC franchise for awhile. Seems like AMC disappeared locally for awhile before showing up at Coltharp.
Note that Lowe's and Wilkins (as well as Cannon Chevrolet at the same time) had gas pumps in front.
The remodeled Wilkins building now houses House of Prayer, which on Sunday dedicated a prayer tower near, if not actually on, the site of those gas pumps. So fuel's still available there today -- just in a much more powerful form.
Picturing the Past is featured each Tuesday in this blog. Reader contributions are welcome.
Respond to this blog
Posting a comment requires free registration: