David Melson is a copy editor and staff writer for the Times-Gazette.
Picturing the Past 58: From church to sports
Posted Tuesday, April 27, 2010, at 10:39 AM
Many of you under, say, age 45 may have wondered what used to be in the large city parking lot across South Main Street from The Fly Arts Center.
Here it is. Main Street Church of Christ was on South Main until the early 1970s, when today's Fairlane and East Side churches of Christ were formed. The move came during the time this part of Shelbyville between South Main and South Jefferson were undergoing an urban renewal project. This photo's dated Oct. 11, 1957.
Was the house next door the parsonage, or used by the church for other purposes, or was it a private residence?
Looks like someone had a new '57 or '58 Plymouth station wagon (the car at far right).
Also of note: Was the traffic light above actually a red-green light or a flashing caution light, like the one that hung over that intersection of South Main and McGrew streets for years?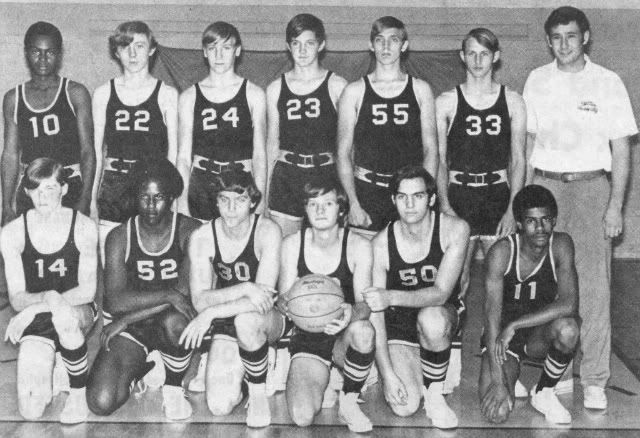 The 1971-72 Wartrace High School Panthers: Front row, from left, Jerry Curry, George Hodge, Wayne Reynolds, Clay Parker and Duane Cooper; second row, Charles Smith, Glynn Higgins, Mike Harden, Don Woodson, Rory Griffy, Roger Hise and coach William Christie. (T-G file photo by Bo Melson)
We've had requests to post some sports photos. Thanks to a contributor for this one of the 1971-72 Wartrace Panthers, one of the last Wartrace teams before the school and Bell Buckle (after that town's school burned) were consolidated into Cascade. We'll post more from time to time.
Picturing the Past is featured each Tuesday in this blog. Reader contributions are welcome.
Respond to this blog
Posting a comment requires free registration: