David Melson is a copy editor and staff writer for the Times-Gazette.
Picturing the Past 59: A flood of memories
Posted Tuesday, May 4, 2010, at 3:42 PM
This week's high water in Shelbyville could have been much worse. As local officials said, we narrowly escaped a mess.
I spent much of my late morning today standing beside roaring Garrison Creek outside Wartrace awaiting the county-city Tech Team's arrival. A stolen vehicle was found in the water, and they were going to make sure no one was inside.
While waiting Deputy Lindsey Puckett said he parked atop Deason hill looking north Saturday afternoon. and saw "a wall of water" -- and a funnel cloud in the Midland area, which he thinks briefly touched down.
And county fire chief Mark Thomas said if Shelbyville had had the 13 or so inches of rain Nashville suffered, our floodgate would have protected most of the city but some homes in Southside would be under water. I imagine a lot of homes in other parts of Bedford County would be under water as well.
Up until the early 1960s Shelbyville suffered severe flooding at least once a decade or so. Imagine waters reaching to the back edge of the Gunter Building...it happened.
The floodgate and wall on South Cannon Boulevard near the bridge has made a big difference since the early 1960s, but a few areas still flood occasionally. Here's a view of floodwaters lapping over South Cannon in April 1970, courtesy of Fran Cook, whose parents shot this photo.
That's the old "green bridge" demolished in the mid-1980s. As I recall that bridge wasn't painted green until sometime in the 1970s; feel free to correct me if I'm wrong. But I seem to distinctly remember it as being unpainted for years.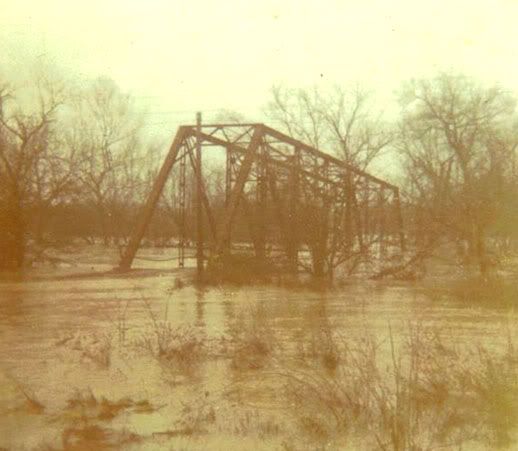 Fran's parents also shot this photo of the old Warners Bridge from the same flood.
I drove over that bridge a very few times in the mid-1970s, just after getting my driver's license, and for an inexperienced driver keeping the wheels on two rows of wooden planks was scary. That bridge was replaced not a moment too soon.
Picturing the Past is featured each Tuesday in this blog. Reader contributions are welcome.
Respond to this blog
Posting a comment requires free registration: