David Melson is a copy editor and staff writer for the Times-Gazette.
Picturing the Past 61: Depot and urban renewal
Posted Tuesday, May 18, 2010, at 10:12 AM
We've published several photos of old Shelbyville auto dealerships, as it seemed the Times-Gazette made quite a few in those days.
Here's "Doc" Mummert taking delivery of a new 1959 Impala from Bill Cannon at Cannon Chevrolet in its Depot Street location sometime in December 1958. Looks like as late as the late 1950s men routinely wore hats.
At top right, just under the Chevrolet banner, you'll see one of the old houses that lined Depot Street between Cannon and the Times-Gazette building. Was this large, white house the Baptist Church parsonage, or did the minister live in the red brick home (later housing the Gingham Dog in the 1980s and 1990s) that was torn down just a few years ago?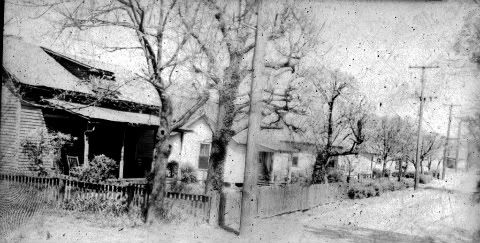 WHERE IS THIS? The negative envelope dated April 18, 1956 indicates this street was within the area designated for urban renewal due largely to repeated flooding. I'd guess most people under 60 have no memory of this street. But I'll bet some of you recognize this right off.
Much of the news coverage of Nashville's record floods concerned mold left behind as water receded from homes -- and whether to scrap the homes entirely or do extensive repairs such as replacing practically everything, etc. Much emphasis has been on the health hazards of mold.
So how did people whose Shelbyville homes were flooded over and over, such as those on this street likely were, handle mold and repairs? Was as much attention paid to health hazards in those days?
I hesitated to use this photo because the negative isn't in the best of shape, but this shows a side of Shelbyville most of us who are relatively younger haven't experienced. Look at how much newer portions of downtown Shelbyville look compared to downtown areas of some of our surrounding towns. Shelbyville's changed so much.
Picturing the Past is featured each Tuesday in this blog. Reader contributions are welcome.
Respond to this blog
Posting a comment requires free registration: