David Melson is a copy editor and staff writer for the Times-Gazette.
Picturing the Past 63: Baseball time at the Mills
Posted Tuesday, June 1, 2010, at 10:27 AM
Today's Shelbyville residents, especially those under 50 or so, probably are unaware of the "Mill Village," the community that sprung up around the old Shelbyville Mills plant, which made U.S. Royal tires for many years.
The homes on the east side of Shelbyville Mills Road, the older homes on the road now known as Cedar Circle, and the nearly-adjacent church buildings (Shelbyville Mills Church of Christ and the old Shelbyville Mills Baptist Church) remain from the early days when the Mills, basically, formed their own town, even with its own post office.
Many people remember the old Shelbyville Mills School.
Here's a contributed photo of the mill village's 1936 U.S. Royals baseball team. This came from a newspaper clipping brought in last year which actually had names under the photo; if someone has a copy I'll add the names.
Was this made at what later became known as Kiwanis Park, off West Jackson Street, or at the old Musgrave Park where today's modern Hillard Gardner Softball League fields cover the area where the old field was? Or did Shelbyville Mills have its own field and, if so, where was it? Realize as you read this that my memory doesn't go earlier than the mid-1960s.
The awning over the stands looks like the one which stood at Musgrave into the early 1980s. But I don't remember that stadium having what looks like a concrete wall.
Looks like everyone in attendance was wearing white and many of the men were wearing ties. Must have been a Sunday afternoon game.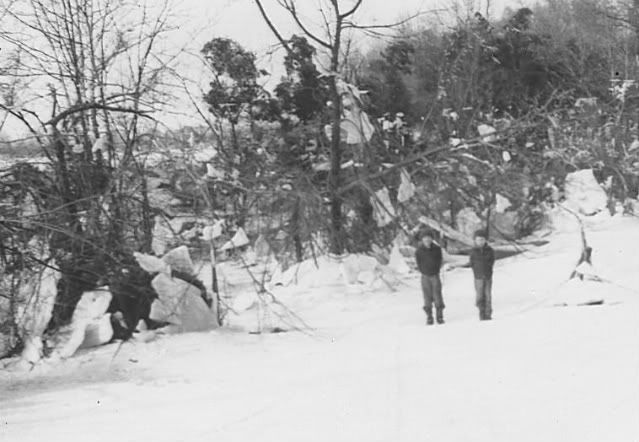 From summer's heat to winter's chill: Here's a contributed photo from Tom Williams of himself (left) and his brother, former Shelbyville firefighter Doug Williams, he describes as made "near Duck River where Little Hurricane Creek meets the river north of El Bethel.
"The river got up and that night a very deep freeze hit Bedford County. The river went down and left the ice up in the trees, and the larger pieces broke the limbs down. I do remember it being bitter cold, and if my memory is correct we had to bring some baby sheep inside next to the fireplace. I don't remember the exact date but may find it somewhere."
Tom thought this may have been made in 1953, but I wonder if this may have been from the famous 1951 flood/ice storm.
Picturing the Past is featured each Tuesday in this blog. Reader contributions are welcome.
Respond to this blog
Posting a comment requires free registration: