David Melson is a copy editor and staff writer for the Times-Gazette.
Picturing the Past 64: Woosley Knitting Mill
Posted Wednesday, June 9, 2010, at 9:34 AM
During much of the 20th century, apparel-related factories made up a large portion of Shelbyville's industry.
Fly Manufacturing Co. is probably most remembered, but Woosley Knitting Mill was a factor as well.
The firm's 20-year-plus employees were given new television sets for Christmas 1950, just in time to watch their choice of Channel 4 -- and nothing else. WSM-TV was Nashville's only TV station until 1953.
This was front page news in 1950 when the T-G ran a tightly-cropped version of this photo. Here's the whole thing, showing part of the plant as well. From left are R.M. Thomas, who is listed as a "company official," Lorene McAnally, Gladys Arnold, Turley Hudson, Christine Neese, Vercie Hardin, Vance Davidson, Ernie Collier and company president Bryant Woosley.
Were Woosley and Thomas the same men who ran Woosley & Thomas Furniture Co.? And if so, could that firm have supplied the TV sets?
Speaking of TV...
SUNDAY MORNING COMING BACK: Several readers have shown interest in the 1969 video shoot for Johnny Cash's "Sunday Morning Coming Down" in Shelbyville.
The video, which I'd guess could be called one of the first music videos in some respects, was shot around the old Dixie Hotel, square and courthouse, Southside School, upper North Main, railroad tracks downtown and the alley behind what today is the Child Development Center (thanks to reader leeiii for the locations).
With help from leeiii, who has been in contact with the video's producer, you can see some of it now.
I'm copying his post from another one of my blogs here:
"I have since located at least part of that film. You can find it on youtube.com. Enter Johnny Cash Ride This Train, then go to: The second to last item on page 4. "J. Cash Ride This Train, Story 21 [The lines of the Hobo Jungle]". Enjoy."
YouTube pages change constantly, and I found it at the top of Page 4. It may have already changed, so go here for a direct link. Shelbyville's seen from 4:00 to 5:58.
You'll see some great views of downtown Shelbyville in the late 1960s. Where was the pool hall? I remember it but can't place it.
STAGECOACH STOP: Some folks stopped by the T-G last week asking about an old stagecoach stop on Old Nashville Dirt Road, at a location just to the southeast of today's Peacock Lane intersection.
They said it was on property which now belongs to Melba Whorley.
They'll be looking at this blog. Can you help with info?

CHALLENGERS: This photo I shot at First Baptist Church's car show Saturday vividly illiustrates the differences between today's and yesterday's Dodge Challengers.
Today's Challenger, at left, is owned by Chuck Heflin while the '72 at right belongs to Ronnie Segroves.
I'd hate to have to choose between those cars. Both are a car lover's dream.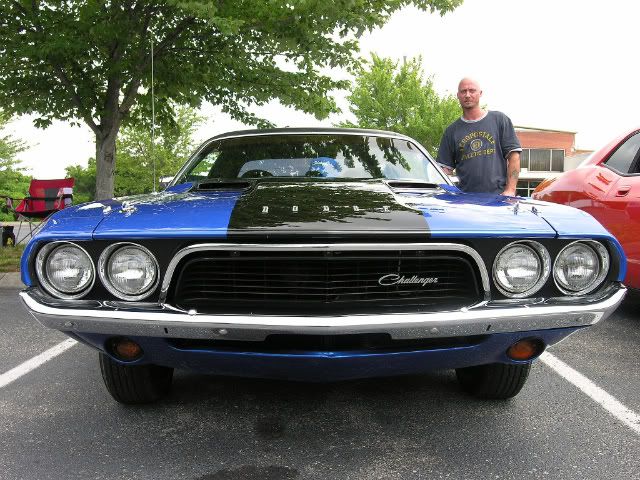 The new Challenger sort of looks like it's on steroids -- it's larger in nearly every dimension except the front end, which is shorter and stubbier than the long front end of the old one, being inspected here by Jeff Reynolds. The car definitely looks threatening from this angle.
I remember the very early 1970s at the old Russell Dodge (located where Tattoo Tom's is today on Madison Street). My dad was into Mopars then and regularly stopped by to look at family cars while I looked at the muscle cars and wished I could have one when I grew older. But by the time I could drive the muscle car era was long gone.
Some Challengers (and their Plymouth counterparts, the 'Cudas) had such wild colors. Remember Plum Crazy, Green Go, Go-Mango, Sublime, Top Banana, Citron Yella (as it was called), or Panther Pink? I remember one particular day when Haywood Russell was commenting that one customer had ordered a Challenger with the peformance options but with the wild stripes borne by many earlier Challengers deleted. Wonder who that customer was? And if his car still exists?
I've been hoping the T-G made some photos of car lots with now-collectible muscle cars during that period. So far, no luck in finding any.
Picturing the Past is featured each Tuesday in this blog. Reader contributions are welcome.
Respond to this blog
Posting a comment requires free registration: