David Melson is a copy editor and staff writer for the Times-Gazette.
Picturing the Past 67: A different Madison Street
Posted Tuesday, June 29, 2010, at 10:02 AM
Madison Street looks less busy than today in this July 30, 1952 photo showing what was then known as Alamo Plaza motel, which still operates today under a different name and even looks much the same.
Looks like some paving must have been in progress. This is the area of Madison Street which wasn't widened until the 1980s, which leads me to the question I've had for some time: When was Madison between North Main and Whitthorne Streets four-laned? I haven't found any photos from the 1950s, and remember it as four-lane in the 1960s, so I suspect it may have been done in the early 1940s when U.S. 41A was built.
Road crews have had some problems with the downtown portion of Madison in recent years because at some point many years ago it was paved with, apparently, concrete over the top of water and sewer lines.I wonder if that was when it was four-laned. That comes to mind because a portion of today's South Main Street in front of the library appears to be concrete rather than the usual pavement.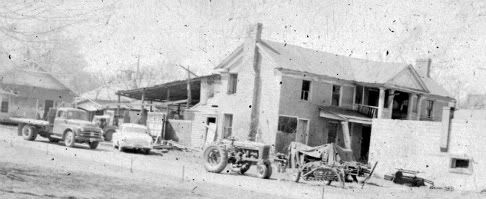 A few weeks ago I posted a photo of a pre-urban renewal street from 1956 which no one seemed to remember. Here's another one from April 18, 1956, showing what appears to once have been a large, fine home in its earlier days. Anyone remember this one and where it was located -- and/or its history?
Picturing the Past is featured each Tuesday in this blog. Reader contributions are welcome.
Respond to this blog
Posting a comment requires free registration: