Bedford County Courthouse as it was being constructed in 1872. (Photo by G.W. Jones Jr., submitted by Jerry Cook)
Over the past week I've seen two old photos of Bedford County Courthouse and have read (in the T-G's Bicentennial history book, which is now available) of how its walls were incorporated into the current mid-1930s vintage courthouse built after the 1934 riots.
But I've wondered: How much of the old courthouse is part of today's structure?
Maybe the answer lies in comparing photos from 1872, 1929 and now. I've attempted to shoot current photos from angles of two old photos.
Here's the courthouse as it was being constructed in June 1872, photographed by "resident artist' G.W. Jones Jr. of Shelbyville and contributed today by Jerry Cook. According to a caption under the photo, the courthouse was 100 feet long and 78 feet wide and construction began in December 1869.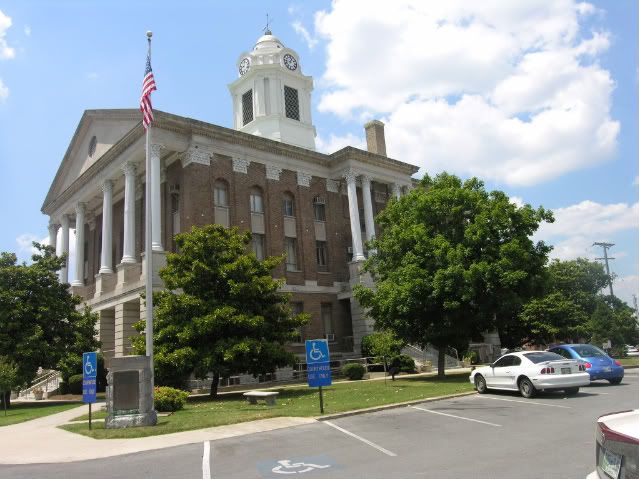 And the courthouse today. Note the second-story windows and the tops of the columns today appear similar to the 1872 photo -- and note the similar location of a chimney. Looks like the second story wall, at least on this side, may have remained intact.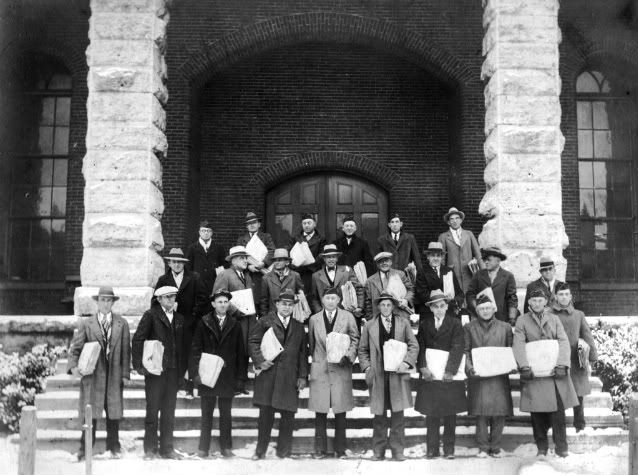 The same courthouse as the first photo, this time from the south side on Sunday morning, December 22, 1929 as Rotary Club members prepared to sell the "Big Brothers" edition of The Tennessean. This continued as late as the 1970s or 1980s and you either left money outside your home or risked being awakened by an early-morning knock on the door. Front row, from left, H.S. Gunn, Tom Turner, C.R. Wood, William Parker, Virgil Hastings, Prentice Cooper. J.O. Davis, S.D. McGrew, W.C. Hale, E.W. Goodwin; second row, Joe Bailey, Amos Brown, Walter Lynch, J.F. Wheatley, B.M. Robinson, C.W. Phillips, Robert Moore, Embry Lynch; back row, Aubrey Jordon, A.F. Brazleton, Bain Stewart, John Cowan, Fred Stong, Ivan Potts. The photo, originally shot by Dickerson Studios, was used in our print edition last week in a story on how the old Rotary Club has been merged recently with the Breakfast Rotary Club.
Notice what appear to be thick wooden doors, and imagine a crowd trying to break them down five years later nearly to the day.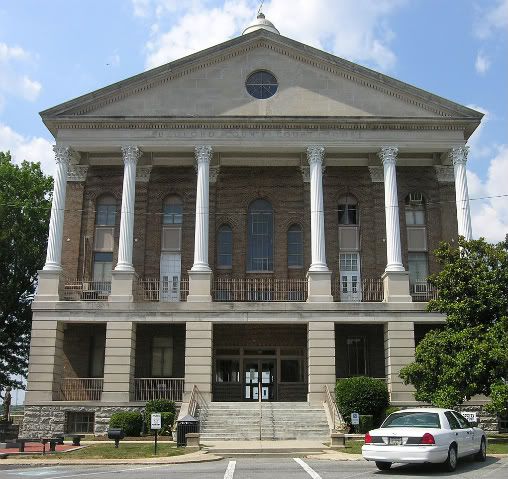 Today the south end looks almost totally different from the older version of the courthouse. Even the shapes of the windows appear different. Same angle as the 1929 photo, but I'm intentionally showing more of the building.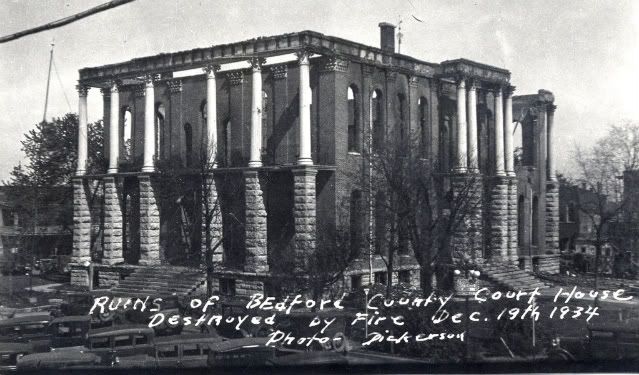 UPDATE: A few hours after I originally posted, contributor marnold1118 emailed this great photo of the courthouse's remains after the fire. It looks like those bottom columns were replaced.
Regardless of how much remains, the courthouse still serves its purpose, and business is still conducted in the same location where those who built this city and county operated.
Picturing the Past is featured each Tuesday in the blog. Reader submissions are welcome.