David Melson is a copy editor and staff writer for the Times-Gazette.
Picturing the Past 72: Still an interesting sight
Posted Tuesday, August 3, 2010, at 11:57 AM
Jack Daniel's and George Dickel weren't the only alcohol manufacturers around south Middle Tennessee in the 1960s.
It was headline news in the Times-Gazette when a still was busted up on Tuesday, April 2, 1963 off Rippy Ridge Road in southeastern Bedford County. Two men from Coffee and Lincoln counties were arrested.
According to the story, 900 gallons of mash were fermented and ready for processing. Deputy Sheriff Robert Osteen surprised the men and caught them after a short foot chase. Sheriff Virgil Newman and ATF agents were around as well.
The mash was in 500 and 400 gallon fermenting boxes, according to the story, and the still was over a mile off the road down a vehicle trail.
Are stills still around? I wouldn't be surprised if the answer is yes.
MORE '63 STUFF: The news and advertisements in that April 3, 1963 edition were interesting. City council members were taking steps to stop parking along the 4-lane portions of Madison Street and Cannon Boulevard. I wonder if this meant people were actually parking their cars in the traffic lanes, for example, in the area of Madison between Evans and Whitthorne Streets. Remember, back then there were old houses on each side of Madison in that area and until relatively recent years you could still see the driveway curb cuts.
Blakemore Funeral Home was just opening for business, according to an advertisement. Charles Blakemore's assistant was today's county mayor, Eugene Ray. Blakemore's funeral business became somewhat secondary for a period of the late 1960s and very early 1970s when they ran the county's only ambulance service, before today's county EMS was founded.
Super Tire Market, owned by Haywood Russell, had opened at 904 Madison St. in the old Gentry's Garden Center location. That business later grew into Russell Dodge at the same spot.
Greenfield's Appliances, in another new building on Madison, offered "a new convenience for Shelbyville shoppers" - they were staying open weeknights until 9 p.m. A far cry from today's 24-hour businesses.
And remember The Fair Store and the H.J. Thompson store? They were advertising new spring clothes and shoes. Stewart-Potts Ford was touting the quality of '63 Fords and Wilkins Motors was selling Ramblers.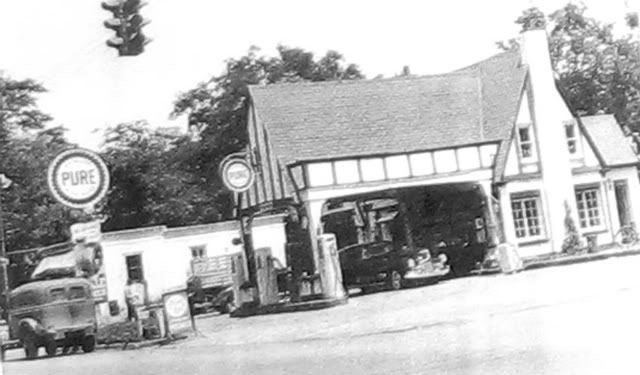 A Pure gas station in Shelbyville during, apparently, the early 1950s.
WHERE WAS THIS? What we have here is a picture of a picture. A photo of Family and Community Education Club members touring Garland King's museum was sent to the T-G. I was processing their group photo and noticed they were standing by this picture.
I've got a feeling some readers will instantly recognize this Pure gas station. It's before my time. Where was it? Judging by the vehicles, this may have been taken in the early 1950s.
Picturing the Past is featured each Tuesday in this blog. Reader submissions are welcome.
Respond to this blog
Posting a comment requires free registration: