David Melson is a copy editor and staff writer for the Times-Gazette.
Picturing the Past 77: Cotton and cars
Posted Tuesday, September 7, 2010, at 12:05 PM
Quite a combination, cotton and cars, but these are two random photos from my computer's "in" box.
Here's Sylvan Cotton Mills, in an undated postcard, as provided by Don Hoover. Where was this? I've heard of it over the years but never knew its location. Is the dam pictured the Duck River dam in downtown Shelbyville?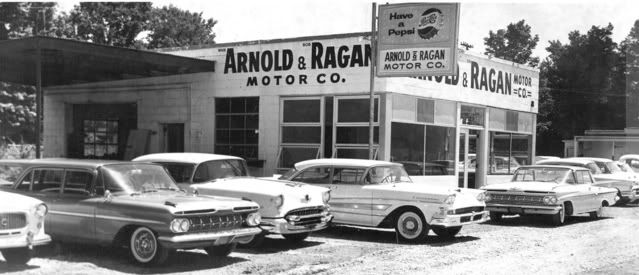 Remember when cars looked like these? What was just a used car lot's inventory in the early 1960s looks like what might be seen at a car show today.
Trey Arnold provided this photo of Arnold & Ragan Motor Co., on Madison Street in the building that still exists, although in a heavily remodeled and expanded form, as Economy Liquors.
All of these would be collector cars today. From left are a late 1950s Rambler American, 1959 Chevrolet station wagon, 1955 Oldsmobile, chrome-laden 1958 Ford Fairlane, 1959 Chevrolet Impala with the rare flat-top roof, and a 1957 Chevrolet along with a few less-visible vehicles.
The building at far right belonged to a dairy until the 1970s, and I can't remember offhand which one.
Picturing the Past is featured each Tuesday in the blog and each Wednesday in the print edition of the Times-Gazette. Reader contributions are welcome.
Respond to this blog
Posting a comment requires free registration: