David Melson is a copy editor and staff writer for the Times-Gazette.
Picturing the Past 90: Grocery stores
Posted Tuesday, December 7, 2010, at 9:52 AM
We've done some photos of the outside of Shelbyville grocery stores, but remember the inside -- and the people within?
Here's a look at what was inside two well-remembered Shelbyville stores: Dial's Superette and United Super Market.
United Super Market was roughly in what is today the northwest side of the parking lot of today's Roses shopping center on Madison Street. It lasted until, I think, the late 1970s and that building later housed a game room for awhile. This photo, from 1952, is credited to Floyd Dennis and was emailed to me a while back.
From left are unknown, unknown, Dorothy Hambrick Dennis, Mrs. Doak Reed, James W. Dennis, unknown, unknown, Hallie Womble, unknown, unknown, Claudette Phillips Cobble, Viola Hinton Dennis, unknown. The Reeds later operated Riverview Market on Cannon Boulevard, according to Floyd.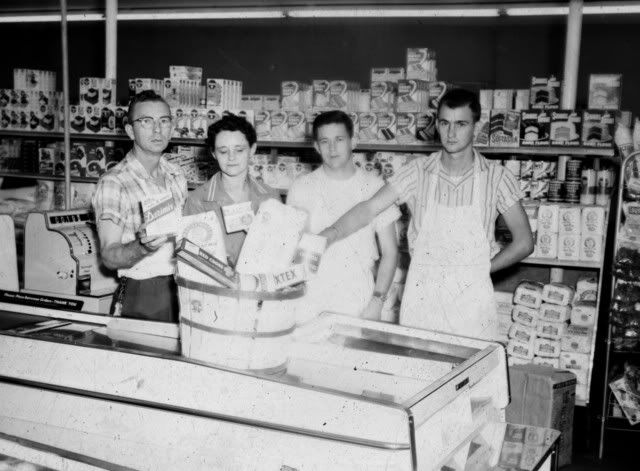 When you're in the front parking lot of Walgreens you're standing where Dial's Superette was from the 1950s until the 1970s or 1980s, when the Dial family moved it to what's now New Covenant Christian Bookstore. The old Dial's building later became a farm equipment store before being torn down. The negative envelope read "Dial's expansion" and was was dated August 1958.
These are members of the Dial family and I'm not sure what's going on with the basket but I'd guess it may have been a prize.
Picturing the Past is featured each Tuesday in this blog. Reader contributions are welcome.
Respond to this blog
Posting a comment requires free registration: